Other than aching to be the next Carrie Bradshaw there is another girl that I wouldn't mind swapping closets and a life with and that is Cher Horowitz. If you totally clueless on who Cher is then you've obviously been living in a cave for the past eighteen years. Clueless is a movie I adore for the fact that it's true nineties Beverly Hills teendom at it's finest. From the infamous two piece plaid pleated skirt blazer outfit to the over the knee socks and Mary Janes Clueless has to be one of the movies I can look back on for amazing fashion advice.
Let's take a look at the ensembles that made Clueless well Clueless: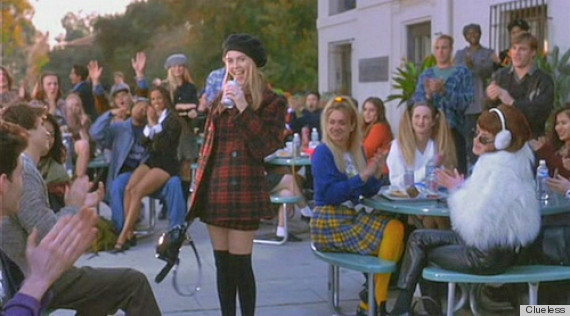 Can I just say that I have never seen plaid worn so well? I mean yeah Kurt Cobain rocked a good few pieces of plaid during his days, but the fact that they paired two plaids together to make a cohesive school girl looks makes me want to go out and a plaid two piece. Designer's such as Miu Miu, Vivienne Westwood and Ralph Lauren had some really amazing plaid pieces in some of their previous runway shows.
(Mui Mui Fall 2012 RTW)
(Vivienne Westwood Fall 2006 RTW)
(Ralp Lauren Fall 2005 RTW)
Plaid, just more reasons to love fall.
Next we are going to look at the sheer top.
After seeing Cher rock a sweater vest over a sheer top I wanted to die. There was something about the sheer innocence that I loved. This is a trend that I've seen coming back, however I wish people brought it back more Clueless-esque if you get what I'm saying.
(Yohji Yamamoto Spring 2011 RTW)
(Michael Kors Spring 2011 RTW )
(Roberto Cavali Spring 2011 RTW)
I feel like we are only knee deep into world of Clueless Fashion.
Now we are going to step into the world of another funky print that plaid a supporting role in this movie, Argyle.
This is one of my favorite looks in the movie. I love the equestrian look it givesw off and I'm sucker for socks; the higher the better I always say. Next to those few pieces the argyle sweater Cher wears in this picture is absolutely amazing. It's simple chic and pulls the whole outfit together.
(Fendi 2013 Menswear)
(Pringle of Scotland Pre-Fall 2013)
Well that's all for this part of 'As If' A Clueless Inspired Post look out for the next part soon. We will be looking at more fashions that made Clueless.
All designer photos courtesy of style.com
http://living.msn.com/style-beauty/simply-chic-blog-post/?post=003db8e7-9926-41c2-8ccc-dd5c7b73bd8b
http://afidelityforfashion.blogspot.com/2012/10/literally-best-clueless.html